9.11 "Circle Wind" Memorial Concert

I am with you still...

あの日を忘れない  いつも一緒に、、、

Donation collected during the 11th Circle Wind Concert in the amount of 250,000 Japanese Yen was hand-delivered to Ms. Shimura, President of Kokoro Smile Project located at Hebita district, Ishinomaki, Miyagi on October 16, 2018. The amount represents $1,154 mostly given by the audience of 9.12 concert plus additional amount matched by NPO Circle Wind Memorial Concert.



Shirota visited Kokoro Smile on Oct. 16 in Ishinomaki and directly delivered Japanese Yen 250,000 to Ms. Shimura to support their grief-care activities .for children and mothers who lost their families.
スポンサーサイト
Choir members of Escolania de Tomares, Seville, Spain who were invited to participate in the 11th Annual Circle Wind Concert held on September13, 2018, paid a visit to Ikuei Japanese Children's School in New Jersey on September 14. It started with Principal Mr. Okamoto's welcome speech in Spanish and various performances by Ikuei students followed. Girls of Tomares also demonstrated their wonderful performances by singing and dancing by return. They sang "Akai Hana, Shiroi Hana ( Red Flowers, White Flowers ) together and played together at the playground. They really enjoyed the company of this special and unique culture exchange program. Some of the Japanese students with Ikuei School are scheduled to fly to Seville next spring as a member of Circle Wind Boys & Girls to participate in another culture exchange program there and will meet the girls of Excolania de Tomares in Seville again.


What remarkable and magnificent performances we have seen at the 11th annual Circle Wind Concert !
All the performers, thank you so much for your participation and such memorable performances. Thanks to you the concert was a great success ! We are very proud of you guys.

Here are some of the performances by the artists during their stages

COBU, dynamic performances of Japanese traditional drums and modern pop dances



Circle Wind Boys & Girls Choir sang a traditional Japanese children song , Natu wa Kinu




Escolania de Tomares showed maginificent performance with traditional flamenco dance.



Japan Choral Harmony TOMO sang an American standard song "Dream" with its own arrangement and a few pieces of West Side Story



Circle Wind Chamber Ensemble makes its debut at the concert receiving overwhelming applause.



Gorgeous finale singing Hanawa Saku with all the participants.




A newly formed Circle Wind Chamber Ensemble will make its first appearance at the 11th Annual Circle Wind Concert to be held at Merkin Concert Hall of Kaufman Music Center, W. 67th Street, Broadway, New York. Each of these young and active artists based in the New York area has already been acclaimed as a soloist. They will play typical popular classic music, such as Concerto for Two Violins (Bach), The Girl with the Flaxen Hair (Debussy), Canon (Pachelbel) and The Four Seasons (Vivaldi).
Members are as follows;



Sho Omagari, Violin



Regi Papa, Violin



Alex Shiozaki, Violin



Ann SunHyung Kim, Violin



Nicole Wright, Viola



Sam Marchan, Viola



Benjamin Larsen, Cello



Genevieve Chapin, Bass







The 11th Circle Wind Concert will feature a girls' choir in Seville, Spain called Escolania de Tomares. The choir has participated joint concerts in the past held in Real Alcazar (Seville) and Cultural Center (Coria del Rio) to commemorate the 400th anniversary of Keicho Embassy dispatched to Spain and Rome by Date Masamune in 1613. Last year, we welcomed Coro Dabar from Coria del Rio for the 10th annual Circle Wind Concert held at Carnegie Hall. The cultural exchange project between Japan and Spain has been developed more and more, and now extended to New York involving the Japanese living there such as Japan Choral Harmony "TOMO" and Circle Wind Boys & Girls Choir.
Also featured this year will be the New York based COBU, a girls' group who performs traditional Japanese taiko drums with their powerful dancing. This is their first appearance to Circle Wind Concert, but the Japanese taiko performance has been made before during our 9th concert by NOBUSHI from Fukuoka, Japan and Hitoyoshi Children's Taiko Team from Kumamoto, Japan.

The concert will be held starting at 6:30pm at Merkin Concert Hall of Kaufman Music Center located 129 W. 67th Street, New York.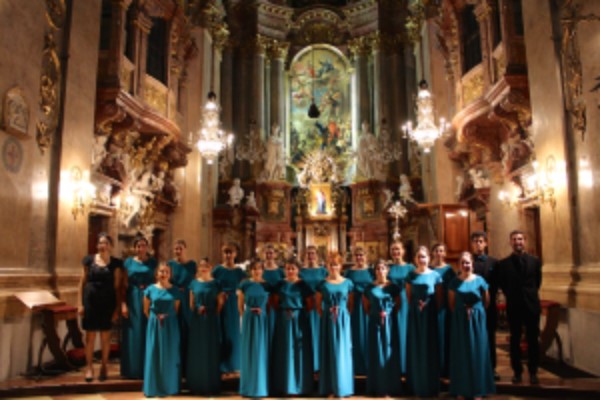 Escolania de Tomares, Seville, Spain





COBU